At KMINDZ, we go a step forward to ensure that the person not only fits the stated job profile but we also ensure that he is the right 'person fit' for the organization keeping in mind the client organization's work culture.

Our search methodology combined with our capabilities have given our search practice a leadership position in the market place and one of our key business values is speed.

Our executive search is designed to find a suitable match to our client's requirement by benchmarking and understanding the client organization, job description and all other necessary details.

EXECUTIVE SEARCH CAN BE CONDUCTED THROUGH VARIOUS MEANS SUCH AS:
DATABASE SELECTION
Primarily addresses requirements for middle/junior management staff.
Our in-house database & web portals for speedy matching of profiles.
Quick response time to client requirements.
Already short-listed CVs save time.
Informed sourcing.
ADVERTISED RECRUITMENT
Targets specific segments of professionals for specialized roles.
Strategic choice to handle volume of requirements and budgets.
Eases the process of finding suitable candidates.
To create awareness and interest in client's organization.
Dedicated teams to understand client's needs, organization structure, culture and the role linkages.
Email id and server space allocated.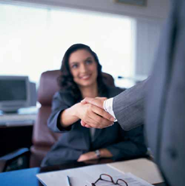 TURNKEY RECRUITMENT SOLUTIONS
Turnkey Recruitment addresses the needs in junior/middle management levels. It is best suited for start-ups, new project manning, plant expansion, and scale up of team sizes and geographical expansion of teams (e.g., sales/servicing teams). Regular Advertising support and our presence across India helps us to Mobilize internal resources to process large volume responses, Manage the selection of required personnel, Manage administrative details and logistics.