This quote came from the wisdom of a veteran corporate education and training director.

The current competitive atmosphere has a number of companies trying to balance their restructuring and retention needs. In the midst of all that expanding and contracting decision-making is one sure truth about remaining competitive. Maintaining a well trained, multi-skilled workforce is more than just an overhead cost consideration, but the recognition that without appropriate knowledge and skills, a company, irrespective of size, can lose its competitive and distinctive edge.

Training is a learning process that involves the acquisition of knowledge, sharpening of skills, concepts, rules, or changing of attitudes and behaviors to enhance the performance of employees. Training is not a 'recreational' luxury to be implemented when times are good, but is an essential survival tool when times are pretty rough. It is important to maintain an ongoing assessment of the internal training needs of the organization while anticipating the changes in the external environment that will dictate new skills and knowledge.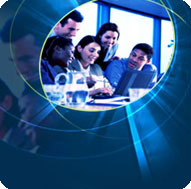 TRAINING IS AN ACTIVITY LEADING TO SKILLED BEHAVIOR
It's not what you want in life, but it's knowing how to reach it.
It's not where you want to go, but it's knowing how to get there.
It's not how high you want to rise, but it's knowing how to take off.
It may not be quite the outcome you were aiming for, but it will be an outcome.
It's not what you dream of doing, but it's having the knowledge to do it.
It's not a set of goals, but it's more like a vision.
It's not the goal you set, but it's what you need to achieve it.
Training is about knowing where you stand (no matter how good or bad the current situation looks) at present, and where you will be after some point of time.
THREE THINGS ARE REQUIRED FOR SUCCESSFUL TRAINIG
Motivation
It's not where you want to go, but it's knowing how to get there.
Knowledge, Skills, and Attitudes
Expectations towards Training
We at
KMINDZ
are specialized in assessing training needs, designing, developing and delivering tailor made corporate training solutions for our clients. With the help of our qualified and experienced training consultants and experts, we bring innovation to training methods and delivery. A perfect blend of traditional training methods and modern techniques help participants take maximum out of the program.