With the trend developing wherein most companies prefer temporary staff to permanent ones, there is a growing tendency of outsourcing non-core functions to outsourced staff. We provide temporary staffing for functions that range from accounts, front office, sales, marketing and back-end operations, IT etc.

We undertake outsourcing for diverse sectors, including banking, telecommunications, FMCGs, IT, manufacturing and retail. The service spectrum caters to functional activities involving office administration, technical support, accounts and finance, HR support, marketing and sales.


BENEFITS OF TEMPORARY STAFFING
Minimize administrative overheads.
No liabilities of permanent employment.
Elimination of valuable time and resources spent in administrative work.
Flexibility in the duration of the contract.
Avoiding statutory registrations and hassles (PF/ESI/TDS).
Savings on other perks and benefits payable to permanent employees.
FEW OPTIONS IN FLEXI STAFFING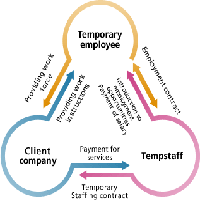 A) TEMPORARY STAFFING
What has been rated as the fastest growing human resource trend, the phenomenon of temporary staffing is finally catching up in India. ...
We enable the client to respond to short-term temporary and/or flexible manpower needs with specific skill set requirements or for supplementing the workforce. These services could be of a part-time, full-time or job sharing nature.
B) TEMPORARY-TO-PERMANENT SERVICES
The client can hire associates as temporary employees for a trial period of employment; after a satisfactory trial period, a company has the opportunity to add a temporary worker to its permanent staff; by moving the employee from third party payroll to that of the business client.
We provide assistance to the client to permanently hire the most qualified professionals and to build a team of professionals with the right skills, personality and fit for the organization.
C) CONTRACTUAL EMPLOYMENT
Corporate can opt to enter into assignments for long-term and indefinite periods of time with our associates.
We engage in offering
Staffing Consultancy, Temporary Staffing, Permanent Staffing & Contract Employment.